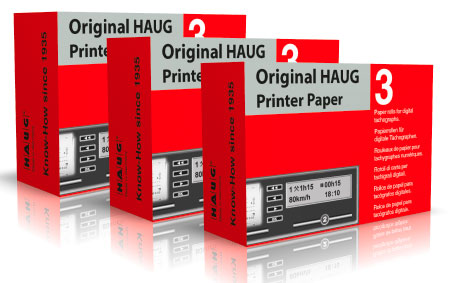 Thermal paper ECONOMY for all approved digital tachographs
| | | |
| --- | --- | --- |
| Art.-No. | | 030 100 |
| EC approval No. for thermal paper | e1 | 210 |
| EC approval No. for digital tachographs | e1 | 84 Continental VDO DTCO 1381 |
| | e1 | 200 EFKON EFAS 3 |
| | e1 | 222 Intellic EFAS 4 |
| | e2 | 25 Actia SmarTach STD |
| | e2 | 29 Actia SmarTach ADR |
| | e2 | 30 Actia SmarTach STD II |
| | e5 | 0002 Stoneridge SE 5000 |
Economy thermal paper rolls are our new quality. Complying with the revised EC regulation 1266/2009 it is a cost-saving alternative. Economy rolls show an excellent and quick response for full black print-outs (dynamic sensitivity).
Features
EC approved for all digital tachographs
Resistant against: Heat (70°C), humidity, fat, oil and light
Low energy supply for printout
10 years readable under standard storing conditions
Thermal Paper PREMIUM for all approved digital tachographs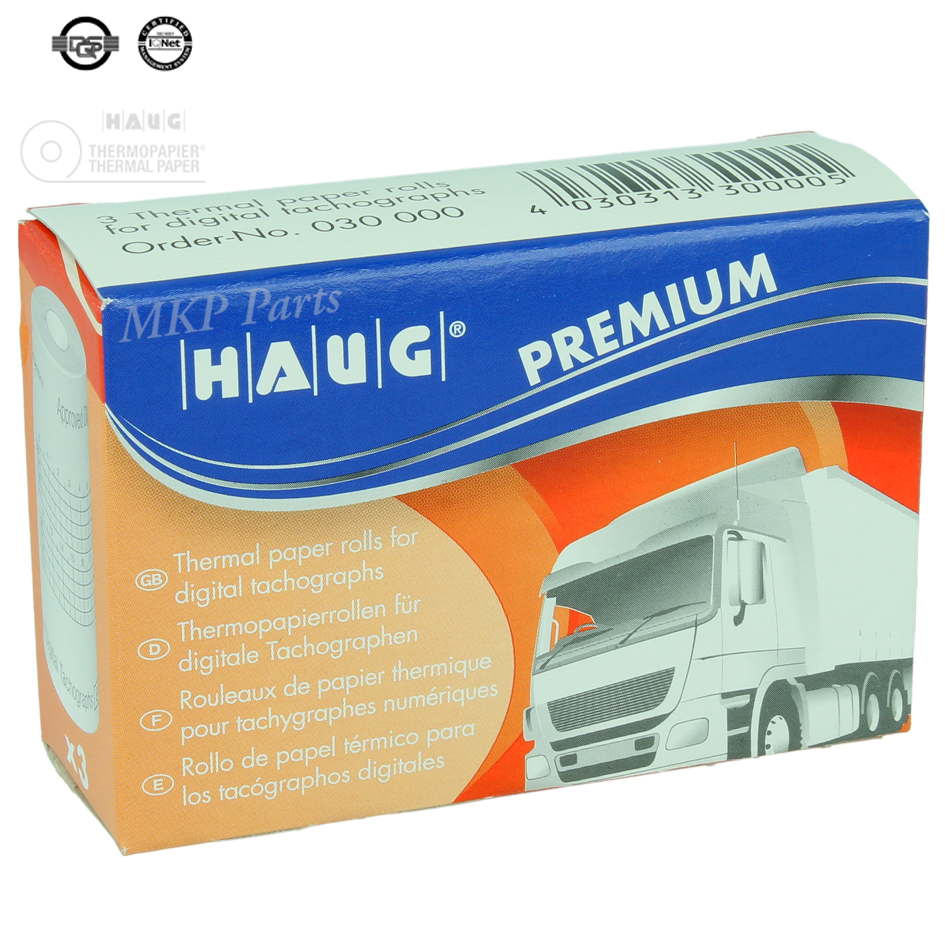 | | | |
| --- | --- | --- |
| Art.-No. | | 030 000 |
| EC approval No. for thermal paper | e1 | 186 |
| EC approval No. for digital tachographs | e1 | 200 EFKON EFAS 3 |
| | e1 | 222 Intellic EFAS 4 |
| | e1 | 84 VDO DTCO 1381 |
| | e2 | 25 Actia SmarTach STD |
| | e2 | 29 Actia SmarTach ADR |
| | e2 | 30 Actia SmarTach STD II |
| | e5 | 0002 Stoneridge SE 5000 |
Important information on the new HAUG quality paper for digital tachographs.
HAUG Thermal Paper in a handy box of 3 rolls;
HAUG rolls are universally applicable; i.e. HAUG thermal paper is EC homologated for all approved digital tachographs.
HAUG rolls are core-less and are not folded or glued at the end.
This protects the printer unit from damage and avoids paper jams.
HAUG rolls have a paper end warning and are 8 m long.
HAUG rolls are individually shrink-wrapped.
HAUG genuine boxes feature an adhesive seal and a stamped production date.
HAUG products are manufactured according to DIN EN ISO 9001:2000.
A small roll plays a major role Paper becomes a document.
The use of digital tachographs is now EC regulated by law for all newly registered utility vehicles > 3,5 tons.
For application in digital tachographs thermal paper rolls are needed. The rolls are inserted into the magazine of the printer unit.
The new paper is a thermal paper
It is temperature sensitive and turns black where it is exposed to the heat of a special print head. Thus, all information is recorded permanently legible. Today thermal paper is used everywhere – e.g. cinema tickets, lottery, parking or cash receipts.
Thermal paper –especially developed for digital tachographs fitted to utility vehicles.
For reliable application in trucks and buses and for long-term documentation, thermal paper has to fulfill special standards.
Printouts are necessary:
during official controls
for calibration of tachographs
in case of loss or damage to the driver card
in case of vehicle change – digital to analogue tachographs
for storage purposes with the forwarding company
for personal records, e.g. for evaluation of working hours
Therefore, printouts have to remain perfectly legible – also for longer periods of time and under difficult requirements.
Thermal paper rolls as well as printouts are exposed to various conditions to which standard papers do not resist. Therefore we have developed a new quality paper for digital tachographs. HAUG quality thermal paper is resistant against extreme temperatures, which may rise up to 90° C in the glove box or dashboard. Printouts on HAUG quality paper remain perfectly legible – even when exposed to everyday substances such as hand cream, cockpit sprays, diesel fuel, motor oil, water and sweat.

Standard papers may easily produce forged or illegible printouts. This could cause a considerable loss of time in case of official controls. Due to the smooth surface of HAUG quality paper, the digital tachograph's pressure strip lifetime is extended considerably. Thus time and cost intensive maintenance will be avoided. The use of standard paper is a big risk for you, as time is money! Therefore we recommend exclusively applying the especially developed quality paper by HAUG!

Your printouts are protected against forging or illegibility by a special topcoat. The pictures demonstrate the major differences between HAUG quality paper and standard paper.